Mother's Day Campaign - We Reached our Goal and More...
In the month of May, Bev Middaugh of Bright Ideas in Broad Ripple, Inc., pledged to match $5,000 on donations to IWIN. We are thrilled and humbled to announce we met and exceeded our goal. Thanks to all of you, we were able to rasie $11,860 for mothers fighting breast cancer all over Indiana. Thank you to Bev, thank you to April (the face and backbone of our campaign), and thank you to our supporters!
Thank You Triton Central High School Girl's Basketball Team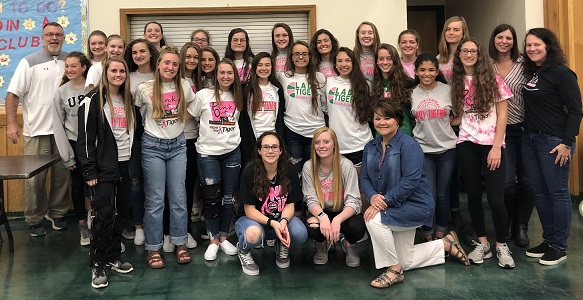 The Triton Central Girls basketball team presented IWIN with a $20,000
check on April 10, 2019. Each year the team plays a "Pink Out" game to raise
funds for IWIN. Their community comes out in full force to support this
amazing event! They have rasied over $110,000 in 7 years for IWIN.
Way to go Lady Tigers and Coach Graham!
We are excited to announce our new Development Director, Claire Kaup!
Claire comes from a background in law, education and development, and mostly recently worked on the development team at IndyHumane. Raised in Northwest Indiana, she has lived and worked in Tokyo, New York, and Ann Arbor before settling down with her wife in Indianapolis. In her spare time, Claire enjoys traveling, reading, and spending time with her overly sassy cats. Claire connects personally with the IWIN mission, and feels fortunate to work for Indiana women and men on their path to surviviorship in Indiana.