100 Women In 100 Days
We have a big goal. We hope to reach it again this year...

The purpose of IWIN's annual 100 Women In 100 Days campaign is to raise money to support 100 patients over the course of 100 days. Funds raised will keep women in treatment and alleviate physical, financial and emotional burdens.
We are thrilled that all gifts up to $10,000 will be matched through the kindness of Bev Middaugh and Ray & Cathy Roembke. Because of these generous donors, you will double the impact of your gift through September 8th!
Click here to make a donation of any size that will give strength and hope to a local breast cancer patient and be a vital part of IWIN's goal to assist 100 Women In 100 Days!
Make a Donation
Hear From Our Recipients
Partnering with Hendricks Regional Health
Social Networks
From Our Founder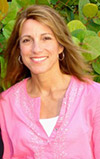 "My dedication to the fight against breast cancer began several years ago with the diagnosis of breast cancer to a very good friend. It was at that time that I realized the impact treatment had on a woman. Due to the fatiguing nature of chemotherapy and the physical limitations of surgery, I recognized that even the simple things in life now became stressors, such as lifting their child and cleaning the house."
- Nancy Shepard, R.N