100 Women In 100 Days
We have a big goal. Our biggest yet...

With your help, over the course of the next 100 days, our goal is to raise enough money to support 100 local patients during breast cancer treatment.
Our hope is every person who has been impacted by IWIN will spread the word and ask their friends and families to give. Each dollar will bring us closer to our goal. There are 2 easy ways to help.
1) Go to the link below and click the orange Start Fundraising button and easily create your own fundraising page. You can use the text provided or share your own picture, story and inspiration.
2) Go to the link below and click the pink Give Now button to make a personal donation.

https://www.justgiving.com/campaign/100women
Thank you to our generous campaign sponsors who have pledged to support an additional 25 women if we reach our goal of raising $40,000.
If you raise $150 or more by July 10th choose from an IWIN cap or 100 Women In 100 Days tee while supplies last.
Raise $500 or more by the end of the campaign and recieve a 1/2 zip dark-pink IWIN pullover
Make a Donation
Hear From Our Recipients
Partnering with Hendricks Regional Health
Social Networks
From Our Founder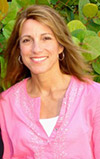 "My dedication to the fight against breast cancer began several years ago with the diagnosis of breast cancer to a very good friend. It was at that time that I realized the impact treatment had on a woman. Due to the fatiguing nature of chemotherapy and the physical limitations of surgery, I recognized that even the simple things in life now became stressors, such as lifting their child and cleaning the house."
- Nancy Shepard, R.N